NETWRIX GROUPID
Simplify and Secure Active Directory, Azure AD and MS365 through Automated Group Management
Netwrix GroupID simplifies identity and access management by providing automated group, user and entitlement management capabilities.
Active Directory and Azure AD groups are the foundation for organizations' security and identity management, as they're used to control access to corporate resources and sensitive data. Keeping group memberships up to date manually, while employees come and go, presents a challenge to IT departments and a threat to data security — loosely controlled groups become an easy target for cyber criminals.

With group and user management software from Netwrix, you can eliminate time-wasting manual Active Directory and Azure AD group management tasks, enforce a least privilege model, and reduce the risk of data breaches.
Get detailed visibility into access entitlements
Knowing exactly which entitlements are granted to your users and groups is crucial to ensuring that no one has more access than they need to do their job. Getting a clear picture is difficult with manual methods and native tools.

Netwrix GroupID automates the collection of permissions of the store where your critical unstructured data exists, which allows IT to identify file permissions users and groups can access. It ensures users and groups do not have unnecessary access to shared folders.
Protect sensitive data through automated Active Directory and Azure AD group management
Poorly managed Active Directory and Azure AD groups enable rogue employees and adversaries who compromise user credentials to access sensitive data and other IT assets.

With Netwrix GroupID, you can ensure that each group has the correct membership and access rights, and that no group outlives its purpose.
Improve employee productivity while reducing the burden on IT
Waiting for the helpdesk to process access requests can bring critical business processes to a standstill.

Netwrix GroupID enables users to request the access they need right using an easy workflow that automatically notifies the appropriate group owners, who can grant or deny the request with the click of a button — without ever involving your limited IT resources.
Set Group Ownership in Active Directory and Azure AD
Implement stringent checks to ensure that every group has an owner. Netwrix also supports additional owners and temporary owners out-of-the-box. These owners must also periodically attest to group membership and attributes within Active Directory and Azure AD to justify its existence.
Sync HR & AD Systems
Automate a bi-directional data sync from HR systems, including SQL and Oracle, to AD within minutes, thereby updating user attributes; then automatically update group membership based on updated attributes.
Easy Onboarding and Offboarding
Eliminate time-consuming tasks and get new employees productive fast with up-to-the-moment provisioning or deprovisioning of employee accounts from your network.
Workflows That Work
Utilize built-in and custom-defined workflows as a route to verifying and approving access requests before they are committed to the directory.
Complete Group Lifecycle Solution
A major issue of delegating group creation to users is the proliferation of unnecessary or expired groups, something we call group glut. Group lifecycle with Netwrix provides control over the creation, use, expiration, and deletion of groups, plugging a security hole that bad actors frequently use.
Access Attestation
Outdated entitlements pose a security risk in any organization. GroupID by Netwrix offers features like Profile Validation for users that enforces each employee to validate their identity details in the directory. Outdated accounts are deleted, keeping directory integrity intact.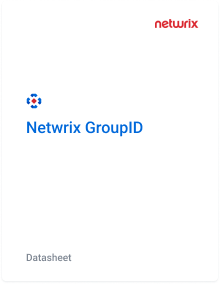 Netwrix GroupID
Find out how Netwrix can help you simplify and secure Active Directory, Azure AD and Microsoft 365 through automated group management.