End-to-End
Active Directory
Security Solution
Windows Active Directory is a prime target for attackers seeking access to your critical data and IT infrastructure. Indeed, Microsoft estimates that 95 million AD accounts are attacked each day. Netwrix security solution helps you secure your Active Directory from end to end — from identifying and mitigating security gaps, to detecting and responding to threats, to recovering quickly from security incidents to minimize downtime and business impact.
Identify and mitigate security risks by performing Active Directory security assessment
Active Directory is secure when it's clean, understood, properly configured, closely monitored and tightly controlled. Netwrix Active Directory assessment tools make it easy to understand your current security posture and prioritize your risk mitigation efforts.
Assess your AD security posture
Identify, analyze and prioritize risks in your AD environment — such as misconfigured security policies, improper privilege assignments, and inactive user and computer accounts — so you can prioritize remediation of critical security gaps before attackers exploit them and establish solid management practices to maintain your strong security posture.
Spot GPO misconfigurations
Easily audit GPOs and their settings and, analyze where they've been linked to, identify misconfigurations that can cause security issues, and redundant GPOs that can be consolidated, so you can focus your efforts on improving AD and GPO security and hygiene.
Identify weak passwords that make accounts vulnerable to compromise
Get detailed reports on vulnerable passwords — whether they're weak or shared with multiple accounts — so you can ensure they are changed to minimize the risk of account compromise.
Identify excessive access rights and "shadow" admins that put your AD at risk
Understanding who has excessive permissions to sensitive data, AD objects, and other IT assets is daunting. It's even harder to spot "shadow" admins — seemingly ordinary users who can escalate their privileges to administrator level in only a few steps. But the Netwrix solution clearly shows who has or can get access to what, so you can remediate excessive permissions and block these attack vectors.
Make sure that your AD infrastructure is configured securely
Check your domain controllers against industry-standard baselines and security controls to harden their security configurations before attackers exploit the gaps.
Rest assured your Active Directory is protected from security incidents
To minimize the risk of AD security breaches, organizations need to implement safeguards that protect Active Directory.
Control groups and group membership
Empower business owners to manage the membership and properties of their groups. Ensure that no group outlives its purpose with powerful lifecycle management policies and periodic attestation.
Protect against identity theft
Thwart attackers and adhere to compliance requirements. Netwrix password policy solutions enable you to enforce strong user password rules that protect credentials from password attacks (even advanced tactics that do not trigger account lockouts) — all without impacting productivity.
Slash your attack surface by eliminating standing privileged accounts
Privileged credentials are a top target because attackers can use them to access critical systems and data. Cut off this attack route by eliminating standing privileged accounts. Instead, provide admins with temporary accounts with just enough privileged access to complete the task at hand — a vital part of a broader Zero Trust strategy.
Block AD and GPO changes that put your business at risk
Improper changes — whether malicious or accidental — to privileged accounts, groups and Group Policy can lead to privilege escalation or even full domain compromise. With the Netwrix solution, you can block changes to your critical AD objects, allowing you to keep your business secure and operational.
Protect credentials from advanced threats
Sophisticated attackers can inject code into the LSASS process to steal credentials. The Netwrix solution enables organizations to spot and block this attack vector to prevent Active Directory compromise.
Be confident that you can spot threats in time to prevent a breach
Because Active Directory is a mission-critical system, it is a prime target for adversaries. Ensure you can detect threats to Active Directory in time to prevent a devastating breach.
Gain control over privilege escalation
Any change to group membership, especially for administrative groups, could enable an attacker or malicious insider to gain access to critical systems or data. Get alerted about such changes in real time so you can promptly investigate and remediate any improper modifications.
Improve detection of сompromised accounts and malicious actors
Stop wasting critical time investigating false alerts and empower your limited security teams to focus on real threats. The Netwrix solution uses machine learning to identify true threats, such as suspicious logons that could indicate account compromise and can lure attackers into revealing themselves with honey tokens.
Detect identity-based attacks in real time
Threat actors are leveraging increasingly sophisticated methods to stay under the radar, but the Netwrix solution brings their illicit activity into the light. It promptly detects DCSync, DCShadow, LDAP reconnaissance, Golden Ticket, password spraying, and other advanced attacks, so security pros can quickly take action to protect vital systems and data.
Learn more
about Netwrix solutions for identity threat detection and response.
Stay on top of Active Directory infrastructure threats
Know immediately if any the configuration of any of your domain controllers deviates from your established baseline so you can promptly investigate and remediate any unwanted modifications.
Save the day by mitigating the impact of Active Directory security incidents
When an AD security incident occurs, every second counts. The Netwrix solution empowers security pros to respond quickly by providing actionable information — and even automating response to expected threats.
Respond to threats instantly
Contain threats fast with automated response options, such as disabling or locking an account, resetting passwords individually or in bulk, or escalating an incident to your SIEM, ITSM or another platform.
Simplify incident investigation and make more informed decisions
Get full visibility into a security incident without having to wade through cryptic event logs. Quickly understand exactly what happened and how, what was affected, and who was behind it, so you can respond promptly and effectively.
Be the hero by recovering from improper Active Directory changes quickly to ensure business continuity

Active Directory is critical to virtually all modern business operations, so quick AD recovery is vital. The Netwrix solution speeds rollback from unwanted AD changes and deletions and streamlines full domain recovery to ensure business continuity.
Minimize business disruptions with comprehensive AD recovery
Easily and safely roll back object and attribute changes, recover deleted items, and even restore DCs to facilitate AD forest recovery, limiting the impact that a security incident has on your enterprise.
Prevent similar incidents in the future
Analyze exactly how a security incident occurred and use the lessons learned to strengthen Active Directory security by preventing similar incidents in the future.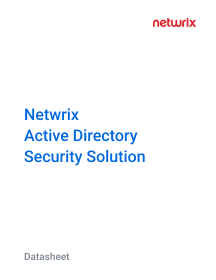 Netwrix Active Directory
Security Solution
Learn how Netwrix can help you protect your Active Directory and improve the security of your organization.
See how companies across the wide range of industries rely on Netwrix to secure their AD
Explore the Netwrix products that can help you secure your Active Directory from end to end